Posted in: Public Health > MPH Opportunities
2018 Summer Massachusetts Department of Public Health Local Internship Opportunities
Opportunity Type:
Fellowships
,
Health Education
,
Internships
,
Practicum Opportunities
,
Public Health
,
Research
Location:
MA
Salary:
Not provided
Opening Date:
February 26, 2018
Closing Date:
March 16, 2018
Website:
http://sites.bu.edu/masslocalinstitute/about/student-internships/
Contact Email:
Hillary.johnson@state.ma.us
---
Announcing 2018 Summer MDPH Local Health Internship Opportunities for Students!
The Massachusetts Department of Public Health (MDPH) Division of Epidemiology and Immunization is pleased to announce the student application period for the Summer 2018 Local Health Internship Program is now open!
This summer, we are offering up to 35 positions with state and local health departments across Massachusetts, from Boston to West Springfield, and from the North Shore to the Cape.  The program aids graduate public health students in gaining hands-on professional experience, while enabling local health departments to obtain assistance with pressing projects.  Selected students work on a wide range of topical projects at the local level including environmental health, substance abuse, communicable disease case investigation, needs assessments, emergency preparedness, health education, data analysis, and health policy.  Accepted students have access to mentors at the state and local level and are offered the opportunity to spend time shadowing epidemiologists and health educators with various MDPH programs (Infectious Disease, Substance Abuse, Global Health, Environmental Health, etc.).  The program concludes with a final session where the students' final projects are showcased via poster and oral presentations.  Students must commit to a minimum of 160 hours during the summer (Estimated time frame: 5/23/18- 8/15/18).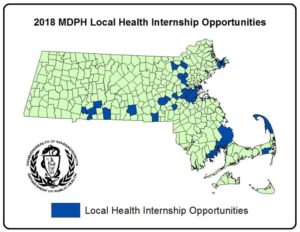 A full compilation of available positions and application instructions are posted at the link below, with an application deadline for all interested students of March 16, 2018. 
Application Instructions & Available Positions:  http://sites.bu.edu/masslocalinstitute/about/student-internships/
Questions about the internships? Please contact:
Hillary A. Johnson, MHS
Epidemiologist II / Local Health Internship Program Coordinator
Phone: 617-983-6800
Email: Hillary.johnson@state.ma.us
IMPORTANT: If planning to use this opportunity for your practicum, please contact your
practicum coordinator.