Monthly Spotlight
National Health Observance – Pain Awareness Month
It's Pain Awareness Month. Relevant resources are below.
An Overview

CDC – Prevalence of Chronic Pain and High-Impact Chronic Pain Among Adults — United States, 2016
Relevant Resource
Healthy People 2030 – Chronic Pain
A Cup of Health with CDC Podcast – Living with Pain
Past UNE Professional Development Events
   It's All Public Health Podcast
   An Overview of the One Health Framework Webinar
  Financial Management Session 1 – Financial Management, Organizational Goals, and Terminology
  Financial Management Session 2 – Types of Budgets and Budget Processes
  Financial Management Session 3 – Performance Management
  Effective Grant Writing for Health Professionals
Noteworthy Training Session
  Best Practices in Public Health Communication to Promote Equity and Inclusion
Featuring UNE faculty, Jennifer Ceide
Develop Public Health Skills
Learn SAS for Free
SAS Skill Builder for students is a repository of resources to help you learn SAS.
Students can access free online courses, certifications, and exam preparation modules.
Click here to get started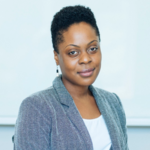 Jennifer Ceide has worked in the field of public health since 2009. Her work has focused on program planning and health education for a variety of communities and professionals in the areas of asthma and tobacco treatment. Her undergraduate and graduate degrees are in public health with concentrations in education and communication. She is excited to be working in workforce development and plans to bring creativity and innovation to the field through interdisciplinary collaboration.
As the Assistant Director of Public Health Workforce Development, Jennifer is focused on addressing public health workforce gaps and trends by creating professional development opportunities for graduating students, alumni, and public health professionals.