GPH 747 – Integrated Public Health Practicum
The Practicum is a 4-credit course in which students must complete:
At least 120 hours of public health field work
One 15-20 page capstone paper with a 45-minute oral presentation. 
If you are a preceptor wanting to learn more about the Practicum or Applied Learning Experience, please click here. 
Please read the practicum manual before you begin your planning process. 
Beginning your Practicum
All coursework must be completed prior to beginning the Practicum. A student who wishes to begin the Practicum prior to completion of all coursework must submit a petition. An approved petition is required to start the planning process. 
To register for the course, students must complete: 
Field Work Information
See "Planning your Practicum" for details.
Capstone Paper Proposal
Submit a (<1 page, ~300 words) proposal with:
A brief background on the public health issue of interest
A brief analysis of current programs and interventions, if any
The research question(s) of your capstone project 
The capstone paper should be related to your field work. Many practicum projects require students to develop a questionnaire, or evaluate a program, or analyze some data – but no reports. Others require reports.

If your site requires a written report, you will be writing 2 separate reports, one for the practicum and your capstone paper. The focus of the capstone paper is not large numbers and data analysis, but rather your ability to critically analyze the information, and communicate it effectively. The final paper should be appropriate to submit for publication or to a public health conference.
Planning Your Practicum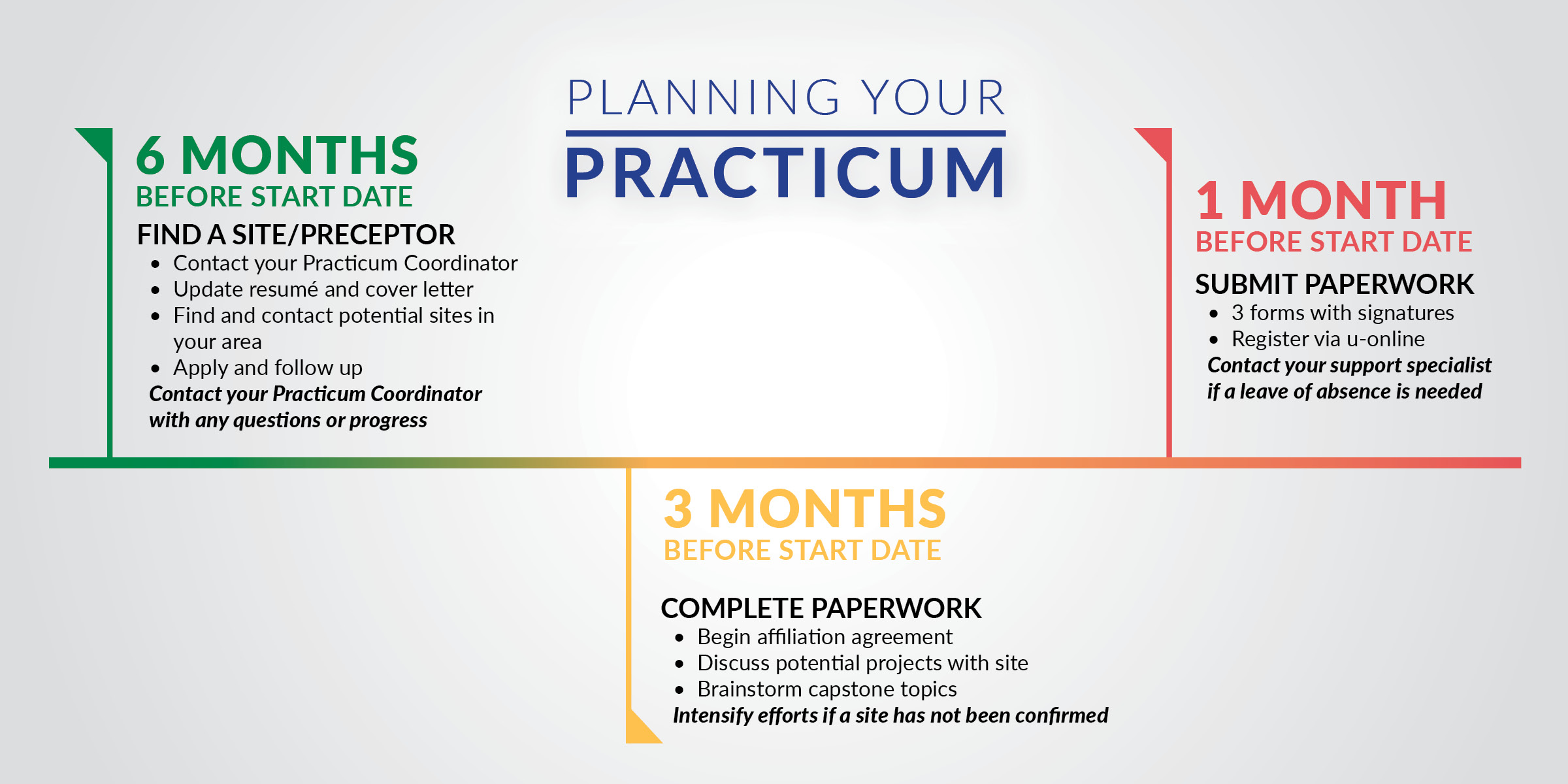 The following steps may be helpful in your planning process. If you require assistance during your planning process, contact your Practicum Coordinator: Titi Balogun
Step 1
As you approach the end of your MPH coursework, start thinking about where or which type of Practical Experience to complete. The following questions may be helpful in identifying a practicum project:
What skills would I like to develop/enhance? (e.g. quantitative skills, communication and facilitation skills)
What strengths and expertise would I bring to the organization?
Which type of setting would I like to explore? (e.g., a state health department or a small community-based organization, working domestically or abroad).
How much flexibility would I need to complete a project? (i.e. consider whether your schedule and availability would be compatible with those of the organization)
During the practicum, students are expected to work in the field alongside other public health professionals. Practicum is also an opportunity to build important professional networks. A minimum of 120 hours at the practicum sites is required. 
Step 2
Once you have a list of potential sites, start making initial contacts early. It is often useful to request an informational interview in order to learn more about the organization and identify potential projects.
Step 3
Contact your Practicum Coordinator to discuss potential sites and projects.
Your Practicum Coordinator:  Titi Balogun
Step 4
Establish A Memorandum of Understanding or an Affiliation Agreement between your site and UNE. If any modifications are suggested on the UNE template, please do so using "track changes" in Microsoft Word; if the site prefers to use its own Affiliation Agreement template, contact the Practicum Coordinator via email. (please note that this process can take up to two to three months to complete)
Step 5
If applicable, work with your site and Practicum Coordinator to initiate:
Your Practicum Coordinator: Titi Balogun
Step 6
Complete and submit the required forms at least two weeks before the end of registration period.
Step 7
Once the forms are approved, you can register for the classes via Uonline. Please note: anyone registered without complete paperwork will be asked to drop/will be dropped from the classes. 
Previous Practicum Sites
This is a List of Previous Practicum Sites. Please note that this is not a comprehensive list and we cannot guarantee that the sites on this list are currently taking students. This list should only be used as an example of potential sites and projects. 
Frequently Asked Questions
For commonly asked questions about the practicum, please visit http://success.une.edu/public-health/practicum/faqs/. Additional details can be found in the Practicum Manual. 
Webinar
As an additional helpful resource for you, we have recorded this webinar. In the webinar, Laudan Ghayebi, Nang Tin Maung and Julie Doyle discuss the Practicum process and answer multiple student questions. Link: https://drive.google.com/file/d/0B2Bsi3y1bjeoaWNNcGNXNEk2RTQ/view?usp=sharing