Step 2 – Uploading Your Video
IMPORTANT: In your courses, it is often required that your video remain unlisted, that is not visible to search engines, however, it is available to anyone with the link to the video. Sometimes, you may have to keep your video private and only share with a handful of users who need to review it.
<<< Back to How to record your video
<<<Back to Recording a Presentation
To make "unlisted" your default upload setting, do the following (you must already have a YouTube channel set up for your UNE account):
On the page for default upload settings, choose "Unlisted" under Privacy (very first top setting). Then save.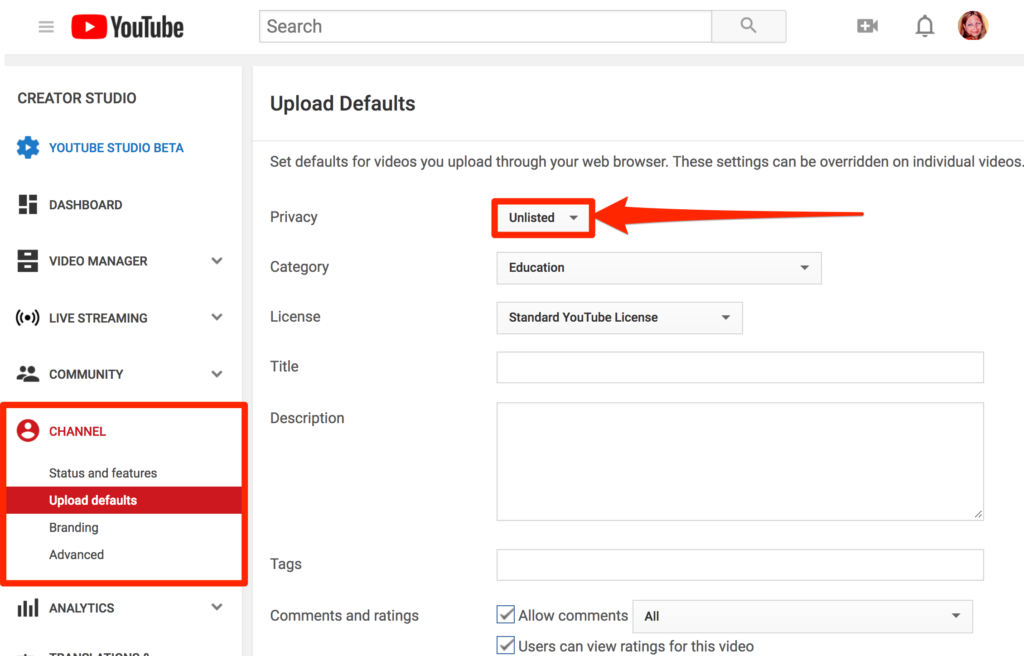 Go to youtube.com and sign into your @une.edu account, then click "Upload"
In the upper right corner of youtube.com, there are two important points of interest. First, to the far right, is the little circle with your avatar. This accesses various settings/areas associated with your YouTube account profile. In any instance where you are uploading videos for a UNE course, you should be signed in to your @une.edu account. If you take your classes in Blackboard, the password and username should be the same as your password and username for Blackboard (if not, contact IT). The reason this is important to call attention to is that you may have several YouTube accounts, even if you think you've never created one. YouTube is part of the Google ecosystem, and if you've created a Google account in the past, say for Gmail, then you may be automatically logged into that account when you first access YouTube. So, anytime you're accessing YouTube to upload a video for class, you should check in the upper right-hand corner to make sure you're logged into your @une.edu account. Click the circle and that will pop right up for you to see.

Set privacy settings for your video; locate your video
Now that you're signed into the appropriate account, you can upload your video. When you click "Upload" you will be taken to the page where you select the video file you saved earlier. Also on this page is your first opportunity to set the privacy settings for your video. In almost all instances (consider this mandatory unless told otherwise), make sure the video's visibility is set to "Unlisted." You can change the privacy of your video at any time, however, we urge you to make your default settings to be "Unlisted" in the first place, to avoid accidentally publishing sensitive videos for the whole world to see.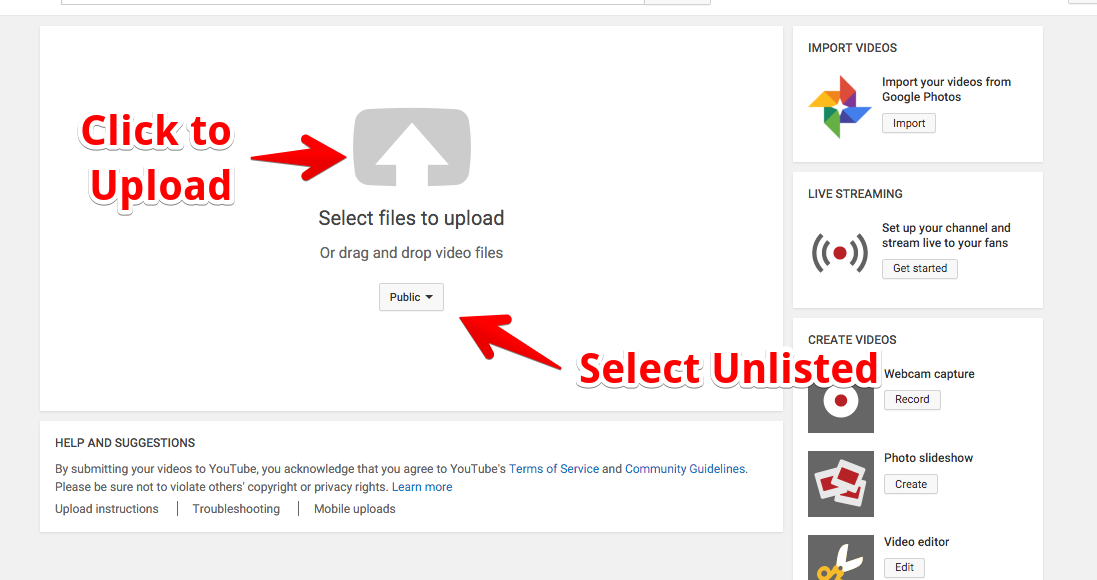 When you click "Select files to upload" a browser window will open up prompting you to indicate which of the files on your computer you would like to use. Select your video and then click "Open."
Uploading/Processing
While the video is uploading/processing, you will be prompted to give it a title, tags, description, etc. You can also re-set the privacy settings of the video at this time, should you choose. Once you're done setting those as desired, click "Publish."

One important thing to note is that you should not navigate away from this page while the video is still "Uploading." You can open other windows or perform other tasks on your computer, or use other tabs to navigate elsewhere on the internet, or simply leave your computer, but while that blue bar across the top of the page still says "Uploading," you should not interrupt it by leaving YouTube.
Note:  You do not have to wait to click Publish.

Once the blue bar reads "Processing," you can leave the page. Processing means that the file is completely uploaded to YouTube and now YouTube is compressing the video so that it will easily stream. Processing usually takes a few minutes, during which time the video will not be playable. You can still share the video using its URL even if the video is still processing–it will just result in a playback error until the processing step is finished (at which time all shared videos and video links will begin to work). 
Disclaimer: We make every attempt to keep this content and directions current; however, the interface often changes as upgrades are made. For most up-to-date information, please go to Google's own YouTube help section on uploading videos.